Burghfield Bowls Club was founded in 1990 by a group of 15 local bowlers. The Club was set up specifically as a mixed club in order that its members could play mixed friendly matches. Work on the green, which was built by the members, started in May 1990. An application to join the County Association was submitted in 1991 and approved the following year. While the green was being prepared local clubs kindly allowed us to use their facilities so that we could play them on a home and away basis. On 31st August 1992 the first match comprising 7 rinks of triples was played on the new green and a few matches the following season. Ken Downton, County President, formally opened the green on 13th April 1994.
 The first couple of years went well, but due to lease difficulties the Club reluctantly moved to Pincents Manor, Calcot in 1995. Unfortunately, a change of ownership and new plans for the Manor placed the Club in an awkward position. However we were offered the chance to return to the original green and returned in 1997.
The Club then settled in at its original green and maintained a membership of around 65 players. However, in 2010 we were once again given notice to leave. In December 2011 we received planning permission for a new green at Burghfield CSA just a mile or so  from our then current site. We managed to source funding of £5,000 from the Greenham Common trust and were awarded a £50,000 grant from Sport England. With additional funding over the next 12 months the club was able complete the project. The green was built in December 2012 with an official opening in Spring 2014, by the RCBBA.
We enjoyed a visit from Bowls England in 2015, but unfortunately our new clubhouse was not available for them to open.  We are still actively trying to raise sufficient funds for this.
Currently, the Clubs' members are active in County Competitions, the Men's Kennet and Kennet LV Leagues, the Thames Valley Ladies League and the Oddfellows Mixed Triples League. In addition the Club has a full fixture list of mixed friendly matches.  Please check the Links and Fixtures pages for current league standings.
Since its formation the Club has prided itself as one that maintains friendliness to its visitors for the enjoyment of the game.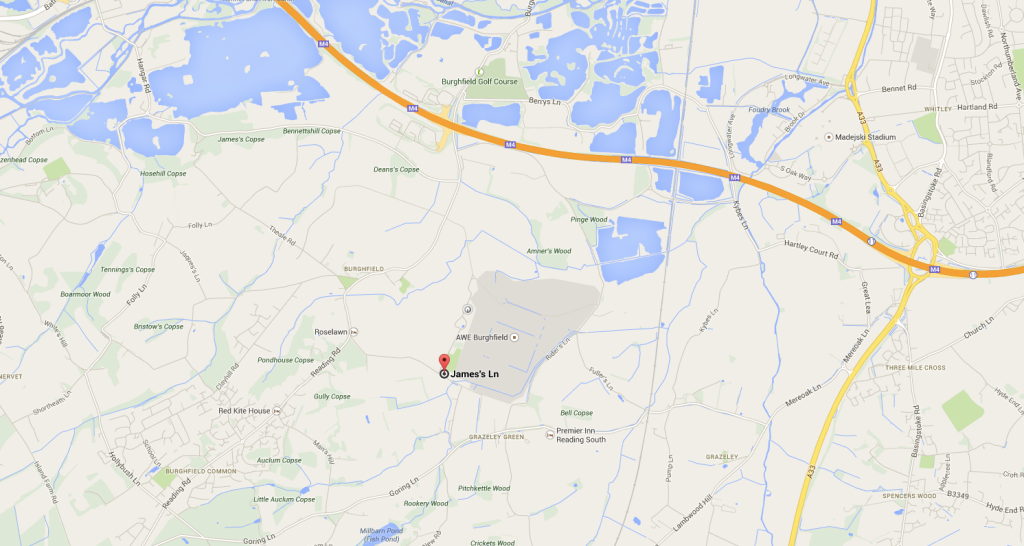 Click on map to enlarge
The bell in our club badge.
At least one object from Bland's original museum—a large Japanese temple bell dating to 1746 served for many years as a school bell in Burghfield. (St Mary's)
This object later found its way into the collections of the Ashmolean Museum, Oxford, as well as becoming a symbol of the community itself. Indeed, a local newsletter—The Newsbell—was named after it and discussions of life in the community still elicit memories of the bell in use at the school.